We are so confident in what we do that we invite you to make an appointment based on our availability – so that we may dazzle you with our exceptional skill and talent.
Please select a date and time slot for us to meet up and plan your next extraordinary event. Let's come together to explore the endless possibilities ahead.
Looking forward to meeting you.
See you soon!
Willem
Schedule your appointment

Our Services
We Provide Everything You Need
We here at Willem Christiaan Events are there to help you put together your next event, whether that be a grand wedding festival, an intimate gathering in the privacy of your own home OR a celebration at a venue of your choice. Pre-planning, mood boards, mockups, organisation, providers and suppliers, menu tasting, on-the-day coordination… We help with everything.
Our Reviews
What Our Clients Say
We are dedicated to creating events that not only meet your requirements but also encapsulate your emotions, aspirations, and the essence of the occasion. With us by your side, you can relax and immerse yourself in the celebration, knowing that every detail is taken care of.
Lindi Steyn
Highly recommend this awesome human to be your wedding planner. He's been around the block and is really innovative and can work under pressure. Thank you for making my day extra special. As soon as I heard you were there to help with the wedding, I could finally breathe. Thank you for all the creative and practical solutions…
Elandi Swanepoel
It is a great honour to write this review! Willem went above and beyond in making our dream wedding a reality. He has such a passion for what he does and he really cared about us as a couple. Willem made planning the wedding effortless (at least for us). I'm sure things went wrong but we never knew about it because Willem…
Lee-Shay Strydom
When Matthew and I met Willem, we instantly clicked. He has a knack of taking your vision and bringing it to life. He is extremely organised, well-seasoned & has a big heart. He is down-to-earth, a people's person and such a joker! He can make any situation brighter and better than what it is. Willem treated us like family…
Contact Us
We are Here to Help You
Whether you're envisioning an elegant wedding, a corporate gathering, a milestone celebration, or any special occasion in between, we offer a comprehensive range of services that cover every facet of event planning.
From venue selection and decor design to catering and entertainment, we orchestrate every detail to create a cohesive and memorable experience.
Hours
Mon-Fri : 8:00 – 17:00
Sat : 8:00 – 13:00
Sundays / Public Holidays : Closed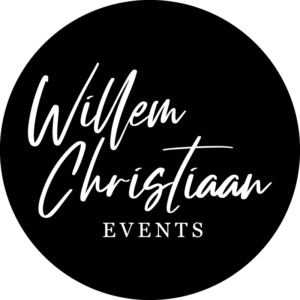 Get in touch
Contact form