Welcome to Willem Christiaan Events!
We are dedicated to turning your vision into a breathtaking reality. With a keen eye for detail and a passion for creating unforgettable experiences, we specialize in crafting events that leave a lasting impression.
Whether you're envisioning a corporate gathering, a social celebration, or a special personal milestone, our team is here to bring your ideas to life.
Leave the stress to us! Our experienced event planner meticulously handles all the logistics, ensuring that no detail goes overlooked.
From selecting the perfect venue and curating a delectable menu to managing vendors and coordinating schedules, we orchestrate everything to perfection.
Our first step is to understand your unique style and preferences. We work closely with you to conceptualize an event design that mirrors your personality or brand identity.
From elegant and sophisticated to trendy and vibrant, we tailor every element to match your vision.
About Us
The Best Event Planner
Being somewhat of a perfectionist, Willem and his team have an eye for detail and a creative mindset that will exceed your wildest expectations!
Creating a memorable event doesn't mean breaking the bank. We work within you, taking your budget into consideration and offering you cost-effective solutions without compromising on quality. Our expertise ensures that you get the best value for every cent spent.
Call us today!
Our Services
We Provide Everything You Need
We here at Willem Christiaan Events are there to help you put together your next event, whether that be a grand wedding festival, an intimate gathering in the privacy of your own home OR a celebration at a venue of your choice. Pre-planning, mood boards, mockups, organisation, providers and suppliers, menu tasting, on-the-day coordination… We help with everything.
Our Gallery
Some Sweet Memories
We understand that every event has its own unique story to tell. Our skilled team of photographers is dedicated to capturing the essence, emotions, and memories of your special occasion, ensuring that every fleeting moment becomes an everlasting treasure.
Our Team
Meet Our Expert Team
Our ultimate goal is to leave you with a lasting impression. We take pride in creating events that linger in the minds and hearts of your guests long after the occasion has passed.
Discover the art of exceptional event planning with Willem Christiaan Events. Let us craft an experience that tells your story and captivates your audience.
Why not contact us today to embark on a journey toward an event that will surpass your wildest dreams?
Your vision is our mission.
Our Blog
More about our what we do,
and our recent events…
Every guest's experience is our priority. We craft engaging activities, thoughtful amenities, and personalized touches that make your event not just memorable, but truly unforgettable. Innovation is at the heart of what we do. Our creative team constantly seeks new ideas and trends to infuse your event with innovative concepts that captivate and inspire.
Planning a wedding is a whirlwind of excitement, and one of the most thrilling aspects is undoubtedly selecting the...
read more
Our Reviews
What Our Clients Say
We are dedicated to creating events that not only meet your requirements but also encapsulate your emotions, aspirations, and the essence of the occasion. With us by your side, you can relax and immerse yourself in the celebration, knowing that every detail is taken care of.
Lindi Steyn
Highly recommend this awesome human to be your wedding planner. He's been around the block and is really innovative and can work under pressure. Thank you for making my day extra special. As soon as I heard you were there to help with the wedding, I could finally breathe. Thank you for all the creative and practical solutions…
Elandi Swanepoel
It is a great honour to write this review! Willem went above and beyond in making our dream wedding a reality. He has such a passion for what he does and he really cared about us as a couple. Willem made planning the wedding effortless (at least for us). I'm sure things went wrong but we never knew about it because Willem…
Lee-Shay Strydom
When Matthew and I met Willem, we instantly clicked. He has a knack of taking your vision and bringing it to life. He is extremely organised, well-seasoned & has a big heart. He is down-to-earth, a people's person and such a joker! He can make any situation brighter and better than what it is. Willem treated us like family…
Contact Us
We are Here to Help You
Whether you're envisioning an elegant wedding, a corporate gathering, a milestone celebration, or any special occasion in between, we offer a comprehensive range of services that cover every facet of event planning.
From venue selection and decor design to catering and entertainment, we orchestrate every detail to create a cohesive and memorable experience.
Hours
Mon-Fri : 8:00 – 17:00
Sat : 8:00 – 13:00
Sundays / Public Holidays : Closed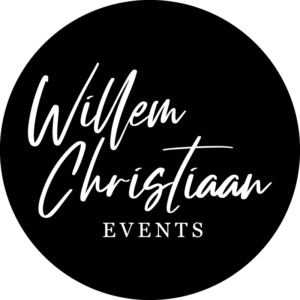 Get in touch
Contact form
Come meet us in person
Meeting you is an exciting prospect as it presents an opportunity to exchange ideas,
collaborate, and forge meaningful connections.